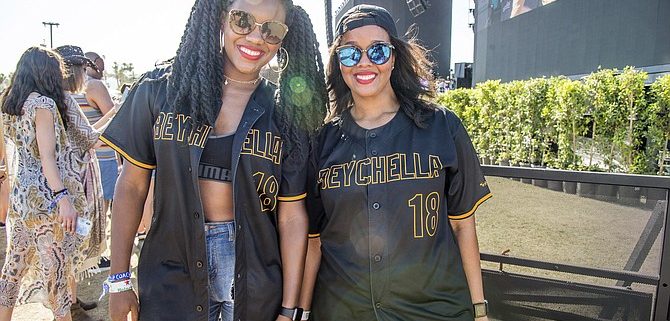 Coachella, the annual music and arts festival held in California, was renamed "Beychella" — to the sound of air horns — by DJ Khaled last weekend when Beyoncé headlined with a two-hour performance. Not only did she become the first black women to headline Coachella, but she brought the HBeyCU theme, a play on HBCUs and "Greek life". Beychella is arguably her best, most talked about performance to date, possibly rivalled by Superbowl 50.
The Beyhive has been endlessly posting on social media about its blackness and feminism. The commentary almost mimics that of the Superbowl 50 performance, but this time it is more accurate. This might not be because of Beyoncé's dedication to black feminist politics, but a reading of the market, from its interpretation and reaction to Formation — and, more broadly, Lemonade — and understanding the benefit of feeding this narrative. Beyoncé, as we all know, is a businessperson first, and strategy is key.
Beychella brought some of the most celebrated aspects of African American life and culture. There were more than 100 dancers, a live marching band, a drumline led by Don P Roberts with members from Florida A&M University, Alabama State University, Norfolk State University, Bethune-Cookman University and Tennessee State University among others, and step segments. There was baton twirling, a crane, guest performances, and outfit and nail polish changes. Beyoncé presented a fictional sorority — Beta Delta Kappa — and for part of her set, wore this sorority's sweatshirt with short shorts, cheeks out. She told the audience she had been dreaming of this performance since she cancelled on Coachella due to her pregnancy with twins, and everyone could tell.
There is no question about the work that went into Beychella. Not just the lighting, choreography, musical arrangement, or auditions, but the imagination. How many hours must have gone into the planning and orchestration of the performance? What fears had to be overcome to see it as a possibility? Is this an ability that comes with money and fame, knowing that whatever you dare to envision can come to life because you can pay for it and your fan base will sing your praises in response?
Beyoncé lives a life of tremendous privilege. She has one of the largest, most loyal fan bases that dedicates copious amounts of time and energy to celebrating her, following her every move, predicting her next steps and defending her at all costs. Who needs a PR team? Whatever she does is well done in the eyes of the Beyhive. It has been interesting to read responses to Beychella on their own, but also to compare them with the rhetoric around other women of colour.
Beyoncé brings other people to the stage with her and she is gracious, kind and a team player. Another artist brings other people to the stage and she is tired, lazy and knows she cannot carry the show on her own. Beyoncé drops unexpected expletives in her music, and she is righteously angry, turning a new leaf and keeping up with her audience. Another artist sings or raps explicit lyrics and she is unintelligent, attention-seeking and stereotypical. Beyoncé wears booty shorts and she is empowered and empowering. Another artist wears booty shorts and she is an unladylike embarrassment.
Everyone has a favourite. There are people we want to excuse, no matter what. We find it easy to explain away their (perceived) wrongs and manage to find good reasoning for actions that go against our own values. We find ways to align behaviours with values that, in our minds, would not otherwise match. What is the difference between the defended and the defenceless? What makes us want to support one person while maligning another, and for similar behaviour?
Video clips of Cardi B's Coachella performance have been shared on social media over the past few days – the responses have been a far cry from those to Beyoncé's performance. The two performances were, of course, quite different. They are different genres and different personalities. It is easy to believe all that exists between Beyoncé and Cardi B are differences. It is easy and expedient to deny obvious truths and ignore commonalities.
They are women of colour. They are performing at levels no one could have predicted. They each have their own following. They have their own social media strategies and regularly make decisions about how much of their lives they will share. They are in control of their image. They use profanity. They wear, say and do things that make them feel like themselves or, at least, the people they want to be. They have presence. They demand attention for more than their talent.
Cardi B's 30-minute Coachella set included Chance the Rapper, 21 Savage, G-Eazy, YG, and Kehlani and four acrobatic dancers on scaffolding, seemingly an homage to her past as a stripper. While the crowd enjoyed the show, social media jumped to conclusions and judgments.
Why is Cardi B performing while pregnant? Does she have all of these guest performers because she can't hold her own? How dare she twerk while pregnant?
People simultaneously lambaste Cardi B for twerking-while-pregnant, but reference guest performers as insults to her stamina. This is a perfect example of the impossibility of pleasing everyone. The same people who went wild over the booty shorts worn by Beyoncé — mother of three — and raved about how empowered they felt came down hard on Cardi B for daring to wear all white, highlighting her pregnancy, while unapologetically doing what she does.
Myles E Johnson wrote about Beychella for the New York Times, hailing the performance as "[writing] the book on black respectability politics." While exciting and gratifying to think about, the assertion could not be further from the truth. He is clearly heartened by Beyoncé's refusal to "divorce herself from black culture," which is certainly debatable, but even if we take this as fact, there must be consideration to platform and stature. Beyoncé can afford to do that. Light-skinned, rich, and quite literally untouchable, she does not represent the most oppressed among us. Her performances do not change our reality, or even revolutionise the way we treat one another as black people, as women, or as black women in particular. In one weekend, we have seen Beyoncé celebrated for the same things that bring Cardi B and other "regular degular schmegular" women ridicule and disgust. Respectability politics remain alive, well, and reinforced by systems from white supremacy to internalised racism.
Beychella seems to have meant the world to black women, but not enough to change the narrow-mindedness the world has about blackness, womanhood, and sexuality. We cannot get any further ahead or do any better if we continue to change the rules based on who we put on the stage or under the microscope. If we are going to celebrate, encourage, and live a black feminist politic, we need to do it all day, every day, without exception. There has to be room for everyone. Single, married, child-free, and parent. There has to be room for people of different religions, sexual orientations, educational backgrounds, and locales. There has to be room for various forms of expression and ways of living in our bodies, refusing to be stifled or made invisible due to misogynoir and hypersexualisation.
In the words of Beyoncé, "Are we smart? Are we strong? Have we had enough? Show 'em."
Published by The Tribune on April 18, 2018.
https://aliciaawallace.com/wp-content/uploads/2018/04/beychella.jpg
445
670
Alicia
https://aliciaawallace.com/wp-content/uploads/2021/02/alicia-logo.jpg
Alicia
2018-04-19 10:19:06
2018-04-18 23:46:49
Culture Clash: Lessons from Beyoncé at Coachella